Once you've started to progress in your lifting to a point where you're pushing heavy weight, it may be time to introduce a weightlifting belt. The right belt can help you safely lift more weight and in turn build more muscle and make you stronger.
However, with so many choices available, picking the right belt can quickly become overwhelming. To make sure you know everything you need to about selecting the best weightlifting belt for your needs, we will be reviewing five belts currently on the market:
Schiek Leather Competition Power Lifting Belt
What to look for in a quality belt?
So you've made the decision to increase the effectiveness of your workout regularly. Now that you know you'll be looking for the best weightlifting belt on the market, what should you be looking for?
A quality belt will be sturdy and made high quality, genuine leather. A good belt made from this material should last several years to a decade, and so should be looked at as a long-term investment towards your workout goals. Indeed, the first few uses with your new belt may be an unpleasant experience as the new leather is typically stiff. After a few sessions to break in your new piece of equipment, it should fit snugly and comfortably. If it does not, you may want to ensure that you have picked a belt that fits properly.
Belt Width
In regards to fit, you may find that different sized belts offer improved results with various activities. A 4-inch wide belt may be used for squatting, overhead presses and other exercises. But some lifters may find this size restricts their form on other big lifts, particularly on deadlifts. For committed bodybuilders, buying separate belts for different gym exercises may be necessary. If you choose to go this route, it may be worthwhile getting a 3-inch belt just for heavy deadlifting. This narrower belt will enable to better get into the correct deadlift position while still giving you something for your core muscles to contract against. (insert ripp's t-nation article)
Consistent Width
Many gym enthusiasts have a misconception that they need to look for a tapered belt that accommodates their full range of needs. However, the entire belt should be the same width all the way around and should be 4" or 3" wide. Belts which do not maintain their width all the way around are poorly designed. As previously mentioned, a weightlifting belt is not a passive device. In order for you to contract your muscles properly against it, the width should be the same in the front as is it in the back.
Lever Vs. One Prong Vs. Two Prong
Another significant difference between belts is the fastening mechanism. Common types include both single and double-pronged devices while latch systems have become popular in recent years. While each method offers comparable safety and security, some users find advantages to a mechanism that makes it preferable to the others.
Lever belts are great in that they're easy to get into the same position every time. It's also effortless to get the right amount of tightness from a lever belt. The only drawback is that when your weight fluctuates, this kind of belt is cumbersome to adjust because you have to take the belt apart to do so. They also tend to be priced on the higher side. However, these are small cons for the tremendous benefits they provide.
One prong and two prong belts function essentially in the same manner. In our opinion, one prong belts are sufficient. But many people love the extra sense of security of an extra prong, and therefore some of the highest rated belts tend to be two-pronged. The only drawback to a two-prong belt is that it's harder to get on and off each time you need to.
The type of belt, in this instance, is definitely a personal preference. I personally love my lever belt. And my deadlift belt is a single-prong belt because I don't want the extra step of trying to get another buckle in place.
Belt Thickness
Another thing to consider when buying your belt is the thickness of the equipment. A belt that is too thick (or too thin) may end up hindering your workout more than helping it. The best weightlifting belts are between 10-13 millimeters thick. Thicker belts may feel great on heavier lifts; however, they tend to be more expensive. For most people, a 10-millimeter leather belt will be just fine. Understanding the limitations of your belt and how they relate to your weightlifting routine is critical.
It's also worth noting that if you plan on competing in your belt, you'll want to check your competition's rules regarding belt thickness. While 10-13 millimeters is within the normal range, some competitions restrict certain thickness sizes, so just be sure to check before you buy your belt.
Using a weightlifting belt properly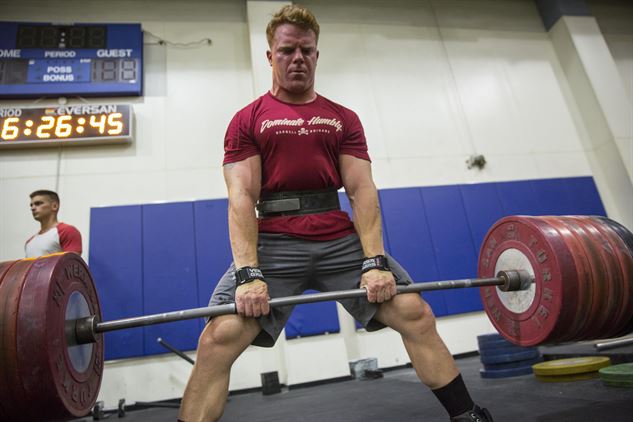 When you first begin lifting you may not even need a belt unless you have some kind of previous back injury. During this beginner phase what's essential is to learn how to brace your core and breathe correctly during your big lifts. Once you progress to a certain amount of weight where your weights are starting to feel heavy, then you can think about adding a proper belt.
Once you have identified the right style and design for your particular needs, you must make sure that you are using the weightlifting belt correctly to receive any benefits. After putting the belt on, it should sit right on top of your hip bone. From this position, the belt can be angled to increase user comfort, but you should ensure that fit of your belt is not interfering with your ability to get set in a proper starting position.
When tightening your belt, you should use the tightest setting which still allows a deep, full breath. If you can not draw a full breath with your stomach pressed against the belt, or your shoulders have to move to accommodate the air, your belt is on too tight. However, the important takeaway is that a good weightlifting belt should allow both for comfort and proper powerlifting form.
Once the belt is in the proper place perform your lifts as you usually would. You don't need to do any different breathing to get your core to contract against the belt. Just brace your abs as you would if you weren't wearing the belt. Doing anything more than that can actually cause your spine to go into flexion, which would defeat the purpose of wearing the belt in the first place.
When you use the belt is also crucial to proper usage. Because you don't want to add anything new when you're starting your heavy work sets, it's essential to use the belt for a couple warmup sets beforehand.
For example, my warmup sets for my big lifts are as followed: 2 light sets of 10-12 reps with 50% of my work set weight, 1 moderate set of 4 reps with 70% of my work set weight, and 1 heavy set of 1 rep with 90% of my work set weight.
With this format, I use my belt on my last two warmup sets to make sure I'm comfortable with the belt before I get into my work sets.
Resource: https://www.ncbi.nlm.nih.gov/pubmed/1533266
This offering from Inzer starts us off at the high end of weightlifting belts. A suede finish over hi-density nylon ensures that the leather belt will continue to meet your needs for years. Should your Inzer belt ever have an issue, the American made product comes with a lifetime guarantee, making this belt an excellent option for the lifter who wants one product that will last them forever. With a lever system, correct sizing is crucial as it will be impossible to adjust the sizing of your belt when putting it on.
Inzer is one of the most popular lever belts. And as mentioned above, the lever latch system is really a plus getting the belt to the right fit everytime. I personally love the fact that I can unlock the belt in between sets when I'm trying to catch my breath. And when I'm ready for my next set the belt latches almost precisely where it was before. This is a different experience than with the one prong belts that I usually have to leave buckled between sets to make sure it stays in the same place.
For lifters worried about feeling the support their belt provides, this offering from Inzer is a fantastic option. The sturdy design, though definitely stiff during the first few uses, is reassuring around your core. The higher price-point and quality may cause casual lifters to pause, but the belt you are receiving for your money has notable advantages that you will feel the moment you strap it around your torso.
Superior quality and design
Lever latch system
Fantastic Durability
Lifetime warranty
Marketed as a competition belt, this product from Schiek will undoubtedly meet the needs of both professional and amateur bodybuilders. However, many users note that it does have a "competition" feel to it, indicating that it was a supremely sturdy belt and could take an excessive number of uses to get the belt to the point where it is comfortable enough for casual use. For those looking for the sturdiest belt on the market, though, this may be the perfect option.
Some lifters have reported difficulty with the two-pronged fastening mechanism, noting that the holes have begun to wear out prematurely and that the metal buckle can be difficult to use, especially after a tiring workout. Additionally, the Schiek belt, while a competition belt, is not approved by the International Powerlifting Federation.
Genuine suede leather
Reaffirming sturdiness and support
5 year warranty
Two prong buckle can be cumbersome
Some people say the holes wear too fast
This belt has one of the highest user ratings on Amazon, and when you factor in the cost, it's really a great offering.
Made out of genuine leather and, with a two-pronged buckle, this belt provides ultimate support for your big lifts. We would definitely recommend it as a product for beginner and intermediate lifters.
At such competitive a low price, the Dark Iron belt beat our expectations in both how the belt feels when wearing it and how it performs when in use. We had some problems with the sizing, however, so if you decide to purchase this belt, double check the sizing chart. Occasionally during use, the belt may shift, causing an uncomfortable sensation, but these sorts of problems are rare.
Affordable
Well constructed
Great customer service
Long term durability
Some people have problems getting right fit
The Dominion belt was perhaps the most comfortable belt in our review. This top of the line offering from Dominion offers firm support without feeling bulky.
The Dominion belt is 3 inches wide, which makes it the perfect belt for deadlifts. It's made from a top of the line cow leather that's vowed to be very durable to last you for a very long time. And the 10-millimeter thickness gives it a nice sturdy feel for all your big lifts.
With a single prong buckle, proper sizing is never an issue, as the belt can be easily adjusted to fit for a variety of uses.
While this belt is primarily my deadlift belt, I've used it on every other major lift, and it performs really well.
Sharp appearance
Excellent size
3-inch width makes it the perfect deadlift belt or for people with short torsos
Large lifters may find that the belt does not fit as well
Black color belt looks more like a dark blue
For those looking for a belt that will simply get the job done, look no further than this Flexz' offering. An affordable belt that performs all its vital functions admirably, this is truly a belt you could be comfortable in for every lift.
The buckle design accommodates a range of sizing needs, and the sturdy leather can definitely take a beating. This belt is perfect for the simple man who doesn't require anything fancy from his weightlifting belt. Trust it to get the job done right every time.
Sturdy leather constrcution for support
Competetive price
Easy to put on and take off
Belts aren't always true to color
Sizes run a little small