Once you get into the fitness life, you can definitively become obsessed with things like the amount of weight you're lifting, how much cardio you're doing, how much food you're eating, etc. And while all you really need is your bodyweight to get moving, there are quite a few gadgets that can help you manage and achieve your fitness goals easier. However, sometimes it can be hard to cut through all the marketing clutter out there to get to what's really useful. So here's a list of products that we recommend that will make your fitness journey more pleasurable.
Weightlifting Shoes
A good pair of weightlifting shoes may be the most important pieces of gym equipment you'll need. I remember when I naive and I thought my Nike cross trainers, running, or basketball shoes were good enough to lift weights in. And boy was I wrong.
When you think about the goal of weightlifting, generating force against something to move it up and efficiently, soft squishy running shoes don't make sense. What you want is a shoe with an incompressible sole so you can generate as much force as possible.
Weightlifting shoes will also typically have a raised heel to which really helps you on your squats.
You can read our full guide on weightlifting shoes here. And the winner of that roundup is the Adidas Adipowers.
Weightlifting Belt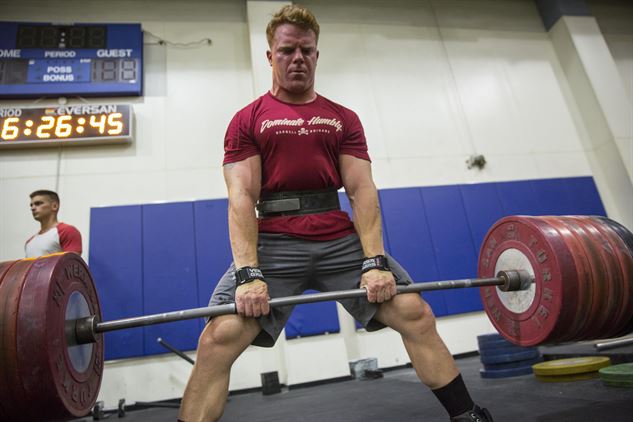 After shoes, the next most important piece of equipment may be a belt. There are many misconceptions about how a belt works. In a nutshell, a lifting belt gives your core something to push against in turn enabling you to create more stability to lift more weight.
Check out our ultimate guides to weightlifting belts here.
The Inzer Advance Designs Forever Lever Belt is an excellent choice.
Lifting Straps
Check this pair by Anvil. They're inexpensive and also have inner padding which makes them more comfortable.
Dip Belt
Adding more weight to your chin ups and dips is one of the best ways to progressively overload your training sessions. But in most commercial gyms it always seems impossible to find the dip belt. It's typically either missing in action or damaged by some goofball that misuses it.
That's why if you're serious about doing weighted pull and pushes it's best to bring your own dip belt.
Harbinger comes out on top here again. This belt is relatively cheap, and it holds a lot of weight. And most importantly for the chain is long enough for a 45-pound plate. Which mean you don't have to worry about the plates getting up into your man regions.
(Check out our definitive guide to the best dip belts)
Dumbells
You may do most of your weight training in the gym. However, having some dumbbells handy in the house is always a good thing. In a crunch, you can still pull together a quick workout to keep things going. And while an at home dumbbell workout may not be as rewarding as your heavy training at the gym, it's a whole lot better than nothing.
The problem with having a full stack of dumbbells in the space. Most people just don't have the room for an entire rack of dumbbells in their house. That's why these Bowflex SelectTech dumbbells are so convenient.
(Check out our ultimate guide to the best adjustable dumbells)
If you just need some dumbbells to keep around the house go for the 552 model. But if you're thinking of going for a more complete home gym splurge for the 1090 model which goes up to 90 pounds.
Also, keep in mind that if you're not going to use dumbbells at home quite often, you can always just get one to two pairs of weights that you think are appropriate like these from Cap Barbell.
Kettlebell
The kettlebell is also another tremendously versatile piece of equipment to have in the house that you can use to program a killer home workout. You can pull, push and do some explosive movements.
And of course, doing additional kettlebell swings is a great way to add more volume to lower body workouts and strengthen your posterior chain.
Amazon basics have some great no-frills cost-effective options. You don't need a whole set, just get one to three of them at weights that you can manage.
Jump Rope
The jump rope is the best combination of a simple and effective piece of cardio equipment. You can do it just about anywhere, and it's one of the few pieces of equipment you can travel.
This Survival Cross speed rope is excellent because it is light and thin. It also a great for advanced boxing like moves like crosses and double under's.
Recumbent/Air Bike
This one is not actually an absolute necessity. However, you might be surprised how affordable a stationary bike is for your home.
This Body Rider bike is really cost effective and is an excellent piece of equipment to do some HIIT (high-intensity interval training).
There's also this Exerpuetic recumbent bike which is another excellent HIIT option.
If you're like us and like to do weight training and cardio at different times of the day, having one of these in the house can be a game changer!
Push Up Bars
These are great for having in the house as well to crank out reps of push-ups. They're also extremely portable so you can travel with them as well.
This pair from CAP Barbell is all you'll need. They create a better angle for your push-ups that in turn puts less stress on your wrists.
Pull Up Bar
Speaking of useful home exercises, this Iron Gym home pull up bar might be the best thing on the list. The assembly is super easy on it fits in most doorways. And the fact that it uses leverage to hold the bar in place is vastly superior to screwing anything into your walls. And it's pretty sturdy. We've seen it hold up with 250-pound men just fine.
Doing a high volume of pull-ups is one of the best ways to get a well carved back and popping biceps. Programs like Chad Waterbury's PLP challenge or P90X become a lot easier to do when you have one these at home.
Ab Wheel
Building a great core is one of the things we all want the most. Not only is the holy grail of the "beach body" look but it's also an essential part of our bodies that affect all our movements.
While you don't ultimately need any equipment to do an ab workout adding resistance to your ab training will improve your core a lot. The ab wheel is one of the best ways to get this done. And you don't need anything fancy. This Valeo Ab Roller wheel is all you need to keep at home to assist you in building a killer core.
Also, check out our definitive guide on the best ab rollers.
Body Fat Calipers
Your body fat percentage is one of the best indicators of how fit you are. And for any guy looking to get the coveted lean six pack, his body fat percentage needs to be below 10 percent. But long before you have a visible six pack, knowing your body fat percentage is beneficial to understand how much you should be eating.
The problem is that the vast the majority of body fat calculators are incorrect and inconsistent.
However, this caliper by Care Touch solves most the inaccuracy problems you'll typically run into. And it is super easy to use. You only have to measure on one part of the body and then find the corresponding fat percentage on the chart provided.
More importantly, even if the reading from these calipers isn't 100% accurate representation of your body fat percentage, the relative reading is what will really matter. If you're reading on the caliper is going down that means you're losing fat and vice versa.
Waist Tape Measure
Another great tool to accompany you body fat caliper is a tape measure. Consistently losing inches off your waist (measure at your navel) is one of the best indicators of fat loss. This is especially useful when you don't see results on the scale or even on your calipers.
The body Care Touch fat calipers above come in a set that includes a neat tape measure. Aside from measuring your waist, the closed end of this tape measure makes it really easy to keep track of other body parts like your chest, arms, and legs.
Muscle Roller
What you do inside the gym is extremely important. But your recovery is as equal, if not more, important than your workouts. Grueling workouts can leave you feeling sore and tight all over. And while it would be nice to get massages on demand, most of don't the time or money to get them on a regular basis.
However, a great substitute is this Idoson muscle roller. It's easy to hit you back, legs and arms with this roller to relieve tension. And best of all you can do it yourself.
Cast Iron Skillet
As the old cliché goes: "abs are made in the kitchen." And that's mostly true. To get the lean look that most guys are after you're most likely going to have to cook at home and meal prep every week. And the cast iron skillet is one of the most versatile pieces of kitchen tools that will help you whip many recipes to fuel your diets.
This pre-seasoned skillet from Lodge is one of the best in the market and is very reasonably priced.
Blender
Smoothies are undoubtedly a significant part of most guys' diet. Smoothies make excellent post workout meals, fast and easy breakfast and easy to go snacks. However, putting a whole bunch of ingredients into a regular blender leads to unblended frustrations. And eventually, these regular blenders wear out relatively quickly under the usage of a regular smoothie drinker.
That's why you should look at something like this Vitamix Ascent A3300 blender. The power of this blender makes short work of any ice, frozen fruit vegetables and protein powder you'll throw into it. And it will last forever. And if you ever have a problem with your unit Vitamix has outstanding customer service and will get you a replacement unit.
Food Scale
This may come as a surprise to you, but this may be the most essential piece of equipment on the list. How much you eat ultimately decides what your body will look like after all your hard workouts. The vast majority of us agree that energy balance (calories consumed vs. burned) is the biggest factor of what you'll look like. And if that's the case then measuring and tracking your food is one of the best things you can do to lose fat and build muscle.
It might seem like a neurotic and tiresome exercise, but it really isn't. And once you do it for a couple weeks, you'll get a handle on how much you should. Also when you compare it to the alternative of just trying to diet blindly, the extra effort can save weeks sometimes months of wasted efforts.
The one we recommend is this Etekcity Digital Kitchen Scale Multifunction Food Scale. This scale is simple to use and measures in a bunch of different units. It also has a large surface area which is useful for when you need to be larger items on it. The simple "zero" button also makes it really convenient to add a bowl and reset the scale, so you don't have place things like raw meat directly on the scale.